Note: The TWR-KL25Z48M Kinetis MCU module is required for use with the TWR-EPD module and is sold separately through NXP and other distributors.
TWR-EPD is an e-paper display module that is designed to add e-paper functionality to embedded designs using the NXP Tower System, a modular development platform that enables rapid prototyping and tool re-use through reconfigurable hardware. The TWR-EPD module is designed for use with the TWR-KL25Z48M Kinetis MCU module from NXP.
An onboard 40 pin FPC connector attaches to our E Ink based EPD panels. The onboard circuit supports driving our 1.44 inch, 2 inch and 2.7 inch EPD panels via SPI interface. The sample CodeWarrior™ project provides source driving waveforms with command interface to update content on EPD panel for developer to start working with EPD application easily.
Visit this TWR-EPD on NXP Tower System official website (under Peripheral Modules>Graphics/Display)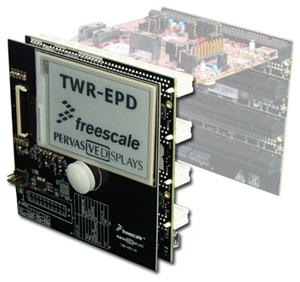 Features
Supports driving 1.44″, 2″ and 2.7″ EPD Panels including Aurora_Ma and Aurora_Mb FPL (Front Plane Laminate)
On board 8M bits serial flash memory and temperature sensor
Open documentation, driving waveform for EPD panel
Provides CodeWarrior project source code with Processor Expert