Black, white and red e-paper displays now operational from 0°C to +40°C
13 Jul 2020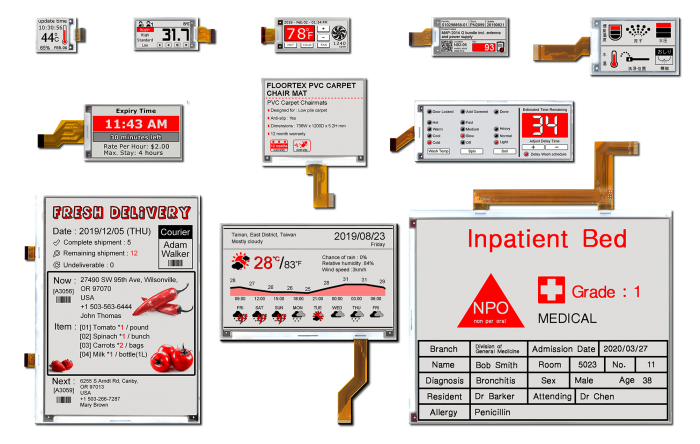 Tainan City, Taiwan – 13 July 2020.  Pervasive Displays (PDi), a world leader in e-paper displays, announces a new wide operating temperature range for its Spectra e-paper displays (EPDs).
The Spectra range comprises 12 EPD modules with size options from 1.54 to 12.2 inches. These small, low power, active matrix EPDs can now operate from 0°C to +40°C (10°C lower than before) making them suitable for most indoor and many outdoor operating conditions.
EPDs are bistable, meaning that they require no power to display an image and use very little power to update the screen. The one time programmable (OTP) feature of each EPD module operates alongside the internal timing controller (iTC) to store an image waveform inside the display driver. As there is no requirement for the host processor to load an image at start up, the time to first image is reduced, improving the user experience.
"We've increased the lower end of the operating range of our Spectra EPDs down to 0°C from 10°C. As the uppermost temperature they are capable of operating in is +40°C, these low power screens are now a great option for a variety of applications where reliability is paramount such as in cold chain, healthcare and warehouse setting," said Alchin Wang, General Manager, Pervasive Displays. "And, as these EPDs all benefit from iTCs, we can offer customers a product which is smaller and lighter, saving them space on the PCB and reducing the bill of materials."
About Pervasive Displays
Pervasive Displays designs, manufactures and markets e-paper displays for applications requiring high resolution, good readability and low power consumption. The company focuses on commercial and industrial applications including retail, logistics, healthcare, security and manufacturing. Its mature TFT, integrated circuit and e-paper platforms reduce risks and improve product value. Pervasive Displays simplifies the work of designers by providing both standard and custom displays and offering extensive technical support through an ecosystem of partners. Design resources include detailed product specifications, application notes, reference designs, source code and applications support. The company is based in Tainan City, Taiwan and has offices in The Netherlands and Oregon, USA. More information: www.pervasivedisplays.com.
Media contacts
Alchin Wang, General Manager, Pervasive Displays
4F, No.28, Chuangye Road, Tainan Science Park, Tainan City (74144) Taiwan (R.O.C.) Tel +886 6279 5399
Email: media@localhost
PR agency
Rachel Sandeman, Account Director, Tel: +44 (0)1225 470000
Email: Rachel.Sandeman@publitek.com