E Ink and PDi Launch Spectra, the World's First True Three Pigment ePaper
23 May 2013
E Ink Technology Solves Unmet Need to Include Color on Electronic Shelf Labels to Highlight Promotions, Sales and Logos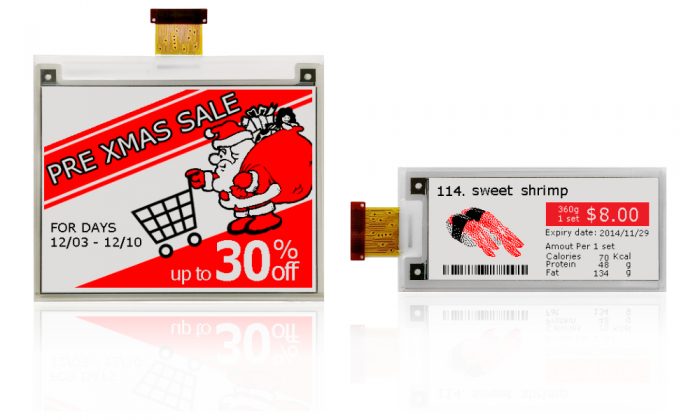 (The spectra displays above are provided by Pervasive Displays.)
E Ink® Holdings, "E Ink" (8069.TW), an ePaper and Electronic Shelf Label visionary, today introduced E Ink Spectra, the world's first three pigment electronic paper display (EPD), featuring black, white and red pigments. Spectra is currently being shown at SID Display Week 2013 in Vancouver, CA.
Price optimization strategies and adaptable technology are vital to ensuring retailers' competitive advantage, success and growth. By using electronic shelf labels (ESL) with E Ink's technology, retailers have the ability to change pricing strategies as needed in real time, allowing them to stay one step ahead of competitors while attracting consumers based on changing market conditions. Spectra allows retailers to elevate the impact of their ESLs, by adding color to logos and quickly directing consumers' attention to important information, such as product sales and promotions.
"The three pigment system is a major achievement for E Ink, and a technological accomplishment in our industry," explained Giovanni Mancini, director of product management, E Ink. "As the first product line to feature this advanced ink, Spectra provides retailers with the same visual and power savings attributes of our black and white ESL products, with the option of adding a third color to highlight promotions or other relevant information."
"We are excited to see the addition of color, something requested by many of our customers," said Niclas Qvist, Head of Marketing and Global Partner Management at Pricer, the leading Electronic Shelf Label (ESL) solution provider. "Pricer use E Ink's e-paper in all our graphic products today. E Ink and Pricer are leading the way by giving shoppers the best in-store experience with clear and easy to read price tags. Product development is guided by market feedback and the first products will be developed in close cooperation with both E Ink and selected customers."
"Pervasive Displays is committed to delivering innovative electronic paper enhancements and solutions that enable revolutionary commercial industrial electronic paper display applications," said Scott Soong, CEO of Pervasive Displays. "Adding color to electronic paper is an effective advancement to this technology. Color adds the benefit of being able to quickly draw attention to specific messages – in retail, red is prevalent for promotions; in other industries red is used for exception management. The ability to quickly discern the importance of a message is critical in any environment."
Spectra will support both active matrix and segmented format ESLs, making it the ideal product for a range of retail applications. The three pigment EPD is also appropriate for industrial, smart card and medical market applications, where Spectra can be used to display information on electronic identification badges.
While the eReader market continues to be an important part of E Ink's business and the company remains committed to the eReader product line, over the past few years E Ink has invested resources into supporting different applications across markets.
"We have always been fortunate to have high customer demand for our electronic paper displays for non-eReader applications," stated Mancini. "The results of our investments will be evident in 2013 as more non-eReader products using E Ink EPDs are released into the market."
Spectra will be available in Q3 2013.