Just how intelligent is ePaper smart healthcare display and how is the healthcare system improved?
16 Aug 2022
With the gradual maturity of electronic paper technology, epaper is gaining popularity and wide acceptance as the latest alternative to traditional paper in terms of optimization of industrial operations. The medical industry is no exception in the pursuit of technical renovation and managerial improvement. Epaper healthcare display  is bringing new solutions to the old pain, while shedding light on the overall upgrade of medical quality. Through this article, readers will be able to catch a glimpse of the advantages brought by ePaper healthcare display and understand just how effective it will be to relieve hospitals and other medical institutions of the pain simply by replacing traditional paper labels with ePaper healthcare display. Also see how the digital paper changes the scenario by ridding patients of the typical, weighty wearable medical TV or LCD displays, creating an environment devoid of light pollution while elevating the therapeutic quality for both patients and caregivers.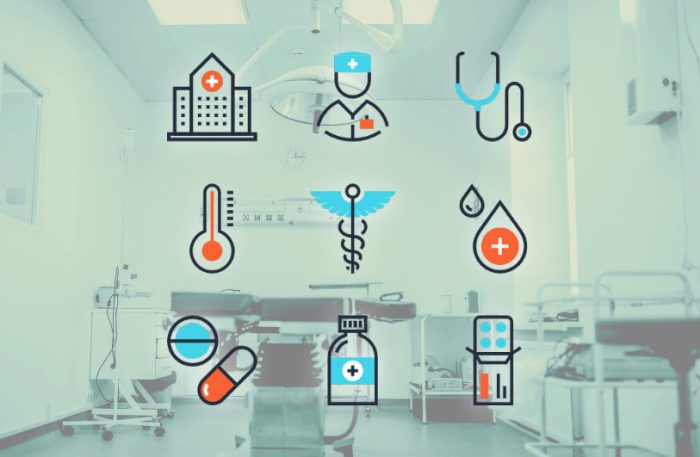 ePaper healthcare display is the new "look" for the Medicare industry
In hospitals or clinics, medical carts and other equipment have followed the tradition of relying on paper labels for record keeping or indication of basic patient information such as medication notes, treatment history, relevant reminders, or overall conditions of the patients. Here are some of the best known and most important features that e-paper has and how they can help to improve the current situation.
Disadvantages of traditional paper labels soon to be replaced by ePaper
Patients' conditions may change on a sudden basis and their medical data often necessitate manual updates or even constant replacement according to the doctor's diagnosis, contributing to increased likelihood of paperwork errors and labor-intensive manpower, much less the paper-based administration processes. Now with the implementation of ePaper for hospital, a simple bedside card can mean the difference in the whole world as it provides caregivers and medical staff with most recent and instant medical intelligence so they can save lives by mitigating professional misinterpretation or completely avoiding miscommunication, while maybe even reducing unnecessary waste of paper.
ePaper medical display solutions for hospital can reduce production cost
ePaper for hospital solutions are multi-tasking intelligent platforms designed to centralize up-to-date information and handle missions ranging from traditional form input for digital record-taking to issuing name tags for identity confirmation, as well as notifying medical staff of patients' specific needs. And the once horrid volume of single-use paper to be discarded can now be canceled thanks to the repeat-use property of epaper, taking us one step closer to an eco-friendly environment.
Practical application and benefits: ePaper carts for healthcare
Considering the bedside cards and medical carts now equipped with ePaper smart healthcare display can better cater to doctors, patients, and their families by displaying clear and accurate patient information in real time, improving communication between doctors and patients, as well as doctors and nursing staff. 
Advantages of ePaper medical display on healthcare industry
The ward doors and bedside cards previously relied on paper or LCD accessories for the main source of display and optimization can be achieved through ePaper solutions on medical.
Negative effects of LCD displays
To provide proper readings, traditional screens require a steady supply of power, resulting in EMC and LCD backlight, which is often the main cause for patient unrest and recuperation interference. ePaper healthcare display  keeps light emission to a minimum so that patients and users are allowed uninterrupted sleep while the display remains on.
Problems with power supplies can mean interruption of life supporting information and lead to inability of quick responses on the part of the caregivers in face of critical medical moments. When vital information is denied, both patients and doctors will run the risk of being forced to deal with life-threatening complications, which is to be avoided at all costs.
ePaper healthcare  display  maximization of the use of space
Without EMC interference, space designers will be allowed greater latitude in using smaller sized batteries independent of power cords or cables to maximize the use of space.
Practical application and benefits: ePaper medical display for hospital ward doors and bedside cards
Wireless connection of ePaper smart healthcare display systems in hospitals and health organizations react to real-time updates and pushes so clinical hours, patient care, and visiting hours and restrictions can all be more effectively managed.
 The new ePaper solution on medical makes installation easier than ever, with longer battery life which keeps information steadily and continuously accessible on display. It can be connected to an existing wireless network and configured without additional wireless access points, accelerating deployment across the doors and beds. 
Among other advantages, dietary precautions and food allergies of the patient can be registered on the ePaper display as visitors may not always be aware of the patient's conditions. The name of the attending doctor also appears on the bedside card allowing visiting relatives and friends to understand who to turn to when there is a question. The language used by the patient, his / her audio-visual abilities to identify and communicate, date of admission, brief non-private personal information, etc., are great additional contents to be planned on the bedside card, with switch buttons for nursing care and information update in case of any worries on top of the panic button for emergency calls.
How e-paper optimizes home medical equipment
Not only used in hospitals, blood pressure monitors and blood glucose meters can also find their way into households and homes. Epaper  application on medical  will continue to bring innovation and transformation to home medical appliances, adding more practical functions and improving home user experience:
Restrictions of using ePaper on medical device
Wearable medical devices are often found to be limited to monotonous colors, but the screen layout can be refreshed and information renewed with wireless batteryless features such as the NFC. The screen , though with resolution still slightly insufficient for a more highly defined display, can supply users with quick and necessary medical knowledge right on the spot.
Innovative aspects of ePaper healthcare display
ePaper usages on medical appliances will be equipped with increased resolution, new color pixels, and above all, low power consumption capability. They will also have the ability to freely switch between screen modes for trend graph browsing.
Practical application and benefits: medical use of ePaper on blood pressure pump / blood glucose meter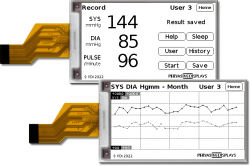 Richer colors and higher resolution of using the ePaper display for hospital  will be the next-generation user experience enhancer as
 the whole new dot-matrix browser sharpens the images recorded and makes tracking trend graphs and long-term changes a much easier task. Thanks to the highly flexible dot-matrix imaging, ePaper healthcare display can now provide a richer and fuller exhibit of inspection records and interactive interfaces. No longer requiring users to download apps onto their phones, this new device specializes in data taking, ridding the elderly of the pain of having to deal with the constantly changing technical upset. Absolutely simple interfaces and simpler operations without worries of data losses.
What does Pervasive Display Inc. offer to improve the ePaper healthcare system?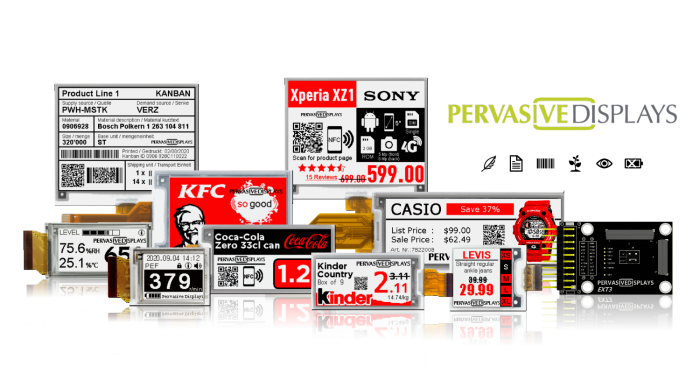 Pervasive Display Inc. is offering a collection of 2.7", 2.9", 3.7", and 4.2" to be the most suitable custom-made personal ePaper used on a medical device, as they are light, and easy to move and store. Combined with touch screens, the operation is interactive and intuitive, which is an improved version based on the previous LCD segment code (TN/STN) display limitation. Furthermore, the exciting combination with the Fast/Partial update (refresh technology) and graphic library technology will speed up the product design cycle. Starter's development kits are also available with EXT3 and EXT3-Touch.
The 7.4", 9.7", and 12" collection will mark the replacement of paper print-outs and the labor-intensive, shift-taking manual change of dog (name) tags with the ePaper smart healthcare display collection as the start of the wireless application of bed-card and door-number updates across the clinic and hospital hallways.
The three-color display will provide eye-catching information on low power consumption for extended battery life while making environmental protection and energy saving possible. Starter's development kits available with EXT3 Giant.