Exciting opportunities using e-paper displays for conference delegate badges
31 May 2018
It's a familiar ritual when you arrive at a conference: go to the registration desk, tell them who you are and pick up a lanyard with your name badge on it. This card then displays a few key pieces of static information for the duration of the event – usually your name, job title, who you work for, and the event sponsors.
It's an approach that has worked for decades, and while it's effective, new technology means we can now take these name badges to another level.
Digital name tags
Rather than having a printed piece of card, imagine a digital name tag, capable of displaying richer, more varied or even context-sensitive information. Or one that was able to provide valuable insights for the event organisers.
At the heart of a digital name badge there will necessarily be some kind of display. The badge will also need to be battery-powered. And this combination has traditionally been a stumbling block for anyone trying to design a digital badge. Traditional thin-film transistor (TFT) liquid-crystal displays (LCDs), of the sort you have in your smartphone, use a lot of energy. They're one of the reasons why modern phones need charging as frequently as they do. A conference name badge that cuts out part-way through the event or requires frequent battery changes or charges would be of little value. With potentially hundreds or even thousands of these badges in use at a single event, you need something capable of operating for months or even years without intervention.
However, swap the LCD for an e-paper display – like the ones in many e-book readers – and the story is very different. E-paper displays have no backlight, and don't need to refresh constantly to maintain a static image. Once a delegate's details are on the badge's screen, keeping them there doesn't require any energy at all.
Let's explore how this could transform the humble conference badge – for both delegates and event organisers.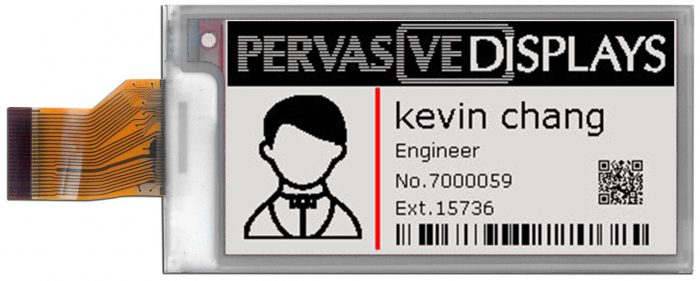 Modernising the conference name badge
At its very simplest, a digital badge with e-paper display could show static details. In this scenario, the badge itself wouldn't even need a battery: information could be loaded onto it at the registration desk using near-field communication (NFC), with the badge harvesting the necessary radio frequency (RF) energy to update the display from the NFC terminal. Loading the data onto this type of badge could be quicker than printing a paper one (or trying to find a pre-printed one in a drawer containing hundreds). And because the badges are reusable, they would reduce paper waste.
A more sophisticated option would be to include a small battery in the badge, such as a CR2032 coin cell. This would enable the conference organisers to load up the badge with a sequence of information to display on the badge throughout the day. So alongside the individual's name and employer, it could show them where to go for the next session they're registered for, or a sponsor's logo. Making these kinds of updates to the screen requires very little energy, meaning such a battery could last months or even years between changes.
Taking it further
While we're exploring the art of the possible, why not take it a step further, and include some form of low-power wireless communication technology? This would enable the event organisers to send information to delegates' badges while they're out on the conference floor or in sessions. Add some form of location sensor, and this information could be tailored to the individual's whereabouts.
The location-awareness would have other uses too, enabling the organisers to track and understand the way people move around the event. These insights could help them plan the layout of future conferences more effectively.
Readily available technology
The characteristics of e-paper make it ideal for use in next-generation conference delegate badges. The technology is mature and easily available, with both development kits and large volumes of displays simple to source.
Blogger: Scott Soong, CEO, Pervasive Displays