Johannus uses Pervasive's 1.44 inch Epaper displays in new LiVE Organ
19 Jan 2016
The Netherlands, Jan. 19, 2016 – The Johannus LiVE marks the definitive dawn of a new era in organs. Never before have the classical pipe organ and the advanced digital organ converged so closely. Every register on the Johannus LiVE comes with a small Pervasive Displays Inc's 1.44 inch dynamic Epaper display that allows to switch effortlessly between the stoplists of various pipe organs.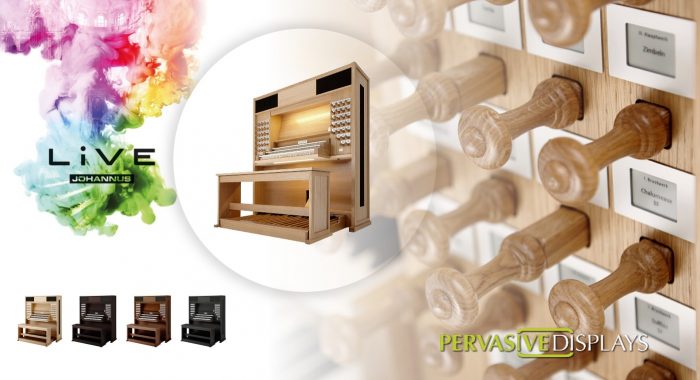 From now on with the Johannus LiVE it is possible to play directly on the authentic organs from dozens of famous international churches and cathedrals within the comfort of your own living room. You can upload upto 5 sample sets onto the Johannus LiVE from a USB stick.
When you switch over to another sample set on the Johannus LiVE, the stoplists shown on the displays above the wooden drawknobs switch to match. This technology represents a breakthrough in the world of digital organs. The registers are set based on the specific pipe organ you select, displaying the name of each stop for that register. As a result, the registers operate like the stoplist for the Domkerk in Utrecht one moment and the stoplist for the Hofkirche in Dresden the next moment. In other words, you can use the same drawknobs to operate the various stoplists for dozens of pipe organs.
For more information, please visit Johannus LiVE