New resin boards for tri-color e-paper displays enable screen operation in demanding conditions
5 Jun 2019
Tainan City, Taiwan – 10th June 2019.  Pervasive Displays (PDi), a world leader in e-paper displays (EPDs), is pleased to announce its new range of rugged tri-color displays, aimed at the fast-growing market for portable equipment designed for use in demanding conditions.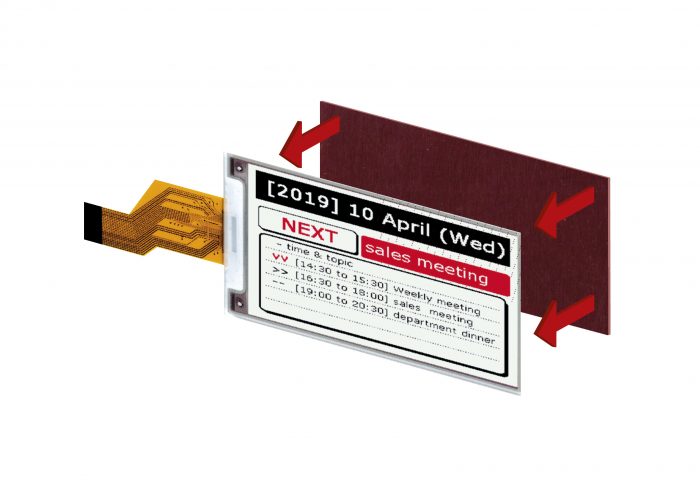 An increasing desire to deploy technology in situations where impacts are common, means individual components must be exceptionally robust. Pervasive Displays' line of rugged black, white and red displays – the 3.7-inch, 4.2-inch, 4.37-inch and 7.4-inch models – include a resin board attached to the glass substrate to protect the screen from breaking when bumped, dropped or knocked.
Wearable technology, logistics container labels, or tags on moving equipment or products are all prone to impacts. Where a conventional glass display could shatter in these situations, Pervasive Displays' new range is designed to resist the impact by being up to 50% stronger, helping ensure the screen remains readable. As a result, these EPDs open up new opportunities for designers to incorporate displays where these would previously have been impractical or impossible.
The displays' ruggedness adds to the already-attractive characteristics of EPDs for use in challenging and/or remote conditions. The way EPDs display text and images, using physical ink particles that reflect ambient light, means they remain readable even in bright sunlight or other harsh lighting conditions. Their near-180° viewing angle further enhances their ease of readability. Moreover, their exceptionally low energy demands mean they don't require mains power, and are instead able to run for months or even years using a small coin cell battery.
The rugged displays' high pixel density (ranging from 117 to 130 dpi, depending on the screen size), state-of-the-art driving waveform and ability to render both text and images in red, white and black, mean product designers can display rich, sharp and detailed information to users.
Alchin Wang, General Manager, Pervasive Displays, said: "As individuals and businesses continue to ask more of their technology, devices are being exposed to ever-more-challenging conditions. E-paper is already a highly robust display technology, and the addition of the resin board means these devices can be used in an even broader range of applications, even where they are prone to impacts.
"This is an exciting development for product designers, who can provide richer customer experiences by communicating information to users in situations where this would otherwise have been much more challenging.
"The rugged displays' built-in timing controller (iTC) also minimizes the need for peripheral circuitry, resulting in smaller overall devices or extra space for batteries and other components."
Learn more about the full range of rugged EPDs from Pervasive Displays
Discover more about the complete range of rugged displays on the Pervasive Displays website: