Pervasive Displays engages Mouser Electronics as global distribution partner
19 Oct 2020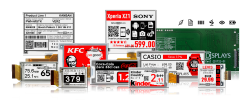 Tainan City, Taiwan – 19 October 2020.  Pervasive Displays has strengthened its customer supply chain offering by engaging Mouser Electronics as a distribution partner. The partnership will cover a range of Pervasive Displays' ultra-low power e-paper displays and the EXT 2 extension kit development board. The products will be available direct from stock or with short lead times.
An authorized global distributor of electronic components, Mouser specializes in the rapid introduction of new products and technologies for design engineers and buyers. For those looking for a low-power display which is sunlight readable and hold an image without a power supply, Pervasive Displays' e-paper screens are ideal for office signage, industrial tags, logistics labeling and many other applications.
"We have chosen to work with Mouser because their outstanding customer service and global foothold will ensure that our customers are fully supported throughout the order process," said Alchin Wang, General Manager of Pervasive Displays. "Our customer base is expanding, particularly in the industrial and logistics sector for labeling and tagging applications, and we are confident that the opportunity to purchase products quickly and easily through Mouser's channels will help customers to bring products to market quickly and easily."
Keith Privett, Vice President of Supplier Management at Mouser, said, "We are delighted to offer customers Pervasive Displays' energy-efficient e-paper screens and EXT 2 development kit. There are many products which can benefit from a low-power screen if the image doesn't need to refresh constantly. The three color options and wide temperature range that these displays offer means that there is a display that fits the criteria of a great many applications."
About Pervasive Displays
Pervasive Displays designs, manufactures and markets e-paper displays for applications requiring high resolution, good readability and low power consumption. The company focuses on commercial and industrial applications including retail, logistics, healthcare, security and manufacturing. Its mature TFT, integrated circuit and e-paper platforms reduce risks and improve product value. Pervasive Displays simplifies the work of designers by providing both standard and custom displays and offering extensive technical support through an ecosystem of partners. Design resources include detailed product specifications, application notes, reference designs, source code and applications support. The company is based in Tainan City, Taiwan and has offices in The Netherlands and Oregon, USA. More information: www.pervasivedisplays.com.
Media contacts
Alchin Wang, General Manager, Pervasive Displays
4F, No.28, Chuangye Road, Tainan Science Park, Tainan City (74144) Taiwan (R.O.C.) Tel +886 6279 5399
Email: media@localhost
PR agency
Rachel Sandeman, Account Director, Tel: +44 7738 682833
Email: Rachel.Sandeman@publitek.com