Pervasive Displays Inc. extends Freescale® Tower™ System easy to integrate with e-Paper displays
28 Apr 2014
Tainan, Taiwan, April 28, 2014 – Pervasive Displays Inc (PDI), the designer and manufacturer of electronic paper modules (EPD) for commercial and industrial display applications, today announced a new peripheral module, the TWR-EPD electronic paper display module, designed specifically for use with the Freescale® Tower System modular development platform.
PDI has joined the Freescale Connect Partner Program and collaborated with Freescale to create of the TWR-EPD display module for use with designs based on the Tower System development platform. This will enable the global base of engineers focused on Freescale to quickly adopt and prototype new designs which include PDI's ultra-low power active matrix e-Paper displays at significantly reduced development cost and energy budget. The TWR-EPD display module mounts an e-Paper display to the Freescale Tower System via the expansion port with the provided primary TWR-ELEV module. This allows the evaluation of Freescale microcontrollers and adds e-paper functionality to embedded designs.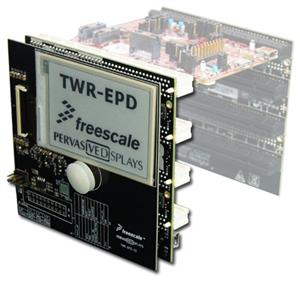 Tower EPD (TWR-EPD) Display Module
An onboard 40 pin FPC connector attaches PDI's E Ink based EPD modules. The onboard circuit supports driving PDI's 1.44 inch, 2 inch and 2.7 inch EPD panels via SPI interface. All three panel sizes ship with the TWR-EPD module. The sample CodeWarrior™ IDE project provides source driving waveforms with command interface to update content on EPD panel.
"Freescale and Pervasive Displays have a history of collaborating to enable ground breaking product launches. This new TWR-EPD controller helps simplify designs & bring Pervasive's e-paper displays to applications where ultra-low power is the key to unlocking strategic markets."
said HD Lee, CTO of Pervasive Displays Inc.
For more product information and to purchase this kit, visit TWR-EPD display module on PDI website.