Pervasive Displays Inc. works with Microchip announcing EPD development kit driven by PIC MCU
28 Mar 2014
Tainan, Taiwan, March 28, 2014 – Pervasive Displays Inc. (PDI), designer and manufacturer of electronic paper modules for commercial and industrial display applications has collaborated with Microchip Technology Inc., a leading provider of microcontroller, mixed-signal, analog and Flash-IP solutions, to implement a new e-Paper development kit, including the new "EPD PICtail™ Plus Daughter Board" that connects to Microchip's Explorer 16 development platform. This development tool set features a graphics and text, with both global and partial screen updates from Microchip's Graphics Library.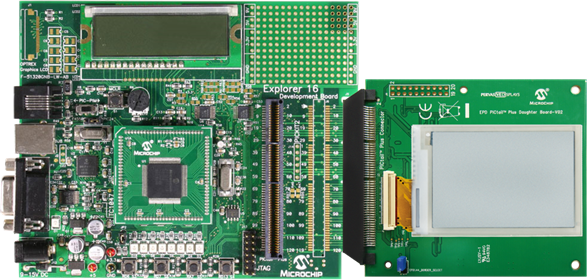 EPD PICtail™ Plus Daughter Board
Microchip and PDI have created the "EPD PICtail Plus Daughter Board" to connect with 
Microchip's Explorer 16 Development Board
, in order to help kick-start EPD development with Microchip's Graphics Library and PIC® Microcontrollers, including the PIC24, dsPIC33 and PIC32 families. The two boards are combined using Microchip's standard PICtail Plus connector, which allows designers to easily evaluate EPD's e-Paper solution that employs Microchip's graphics library for its 16-bit and 32-bit PIC® microcontrollers. The sample 
Microchip MPLAB® X IDE
 project provides an open source driving waveform, including global update and partial update capability with command interface to update content on the EPD panel without a graphic display controller or timing control board. The provided demonstration programs include menu button, draw square and circle, bar chart, HVAC control panel and medical electrocardiogram (ECG), which supports updating button, slider, static text, picture and several other objects locally.
EPD PICtail™ Plus Daughter Board with 2.7" EPD and Microchip's Explorer 16 Development Board
EPD PICtail Plus Daughter Board Features:
Supports driving 1.44″, 2″ and 2.7″ EPD panels. The three sizes are packed with this board
Direct drive EPD by Microchip PIC24 or PIC32 microcontroller, without the need for any external graphic or timing controller
On board 256K bits serial RAM and temperature sensor
On board LDO voltage regulator to 3V for EPD operation
PICtail Plus Interface for connecting to Explorer 16 Development Board
Open documentation and driving waveform for EPD panel
Provides Microchip MPLAB X IDE project source code with Microchip Graphic Library
Provides global update and partial update driving technology on EPD panels
"Microchip collaborated with Pervasive Displays in creating this EPD PICtail™ Plus Board, to help our joint customers extend the battery life of their E-paper display applications using our eXtreme Low Power PIC® MCUs," said Joe Thomsen, director of Microchip's MCU16 Division. "E-paper applications are a natural extension of our low-power display products, including the free Microchip Graphics Library, which helps designers quickly develop images for their E-paper displays. With the introduction of the EPD PICtail™ Plus Board, our customers can pair this with their Explorer 16 Development Boards to create new E-paper designs."
"Pervasive Displays congratulates Microchip on the launch of its PIC® MCU aimed at new applications requiring partial updates with e-paper. We have a strong relationship with Microchip, who, like Pervasive Displays, are continuously evolving and innovating. The two companies combined are creating new markets for electronic paper," said Scott Soong, CEO of Pervasive Displays Inc.
For more product information and to purchase this kit, visit EPD PICtail Plus Daughter Board on PDI website.