Three-color e-paper displays create impact and improve recognition
18 Jul 2019
Tainan City, Taiwan, 11 October, 2016 – Pervasive Displays (PDi), a world leader in e-paper displays (EPDs), has announced the general availability of the first two products in the Spectra family of three-pigment, black, white and red EPDs. There is growing demand for EPDs with additional color as a means of enhancing retailers' competitive advantage in attracting consumers in an environment of constantly changing market conditions. Pervasive Displays' Spectra EPD is able to quickly draw attention to specific messages on a device or signage and is particularly useful in applications such as electronic shelf labels (ESL), industrial, smart card, signage and identification badges.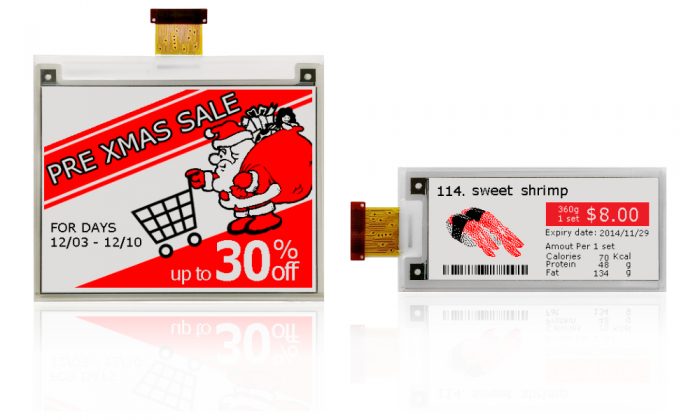 2.87-inch and 4.2-inch Spectra displays
The Spectra EPD is an active matrix TFT glass substrate display with a super-wide viewing angle of 180 degrees. Two sizes of Spectra EPD are currently available. Model E2287ES051 is a 2.87-inch display providing a resolution of 296 x 128 and pixel density of 112 dpi, and the larger model E2417ES053 is a 4.2-inch display with 400 x 300 resolution figure and 120 dpi high pixel density. In both displays the pixel arrangement is vertical and the surface of the display features an anti-glare treatment. Accordingly, Spectra EPDs are able to display fine graphics and patterns, maximizing visibility, recognition and impact.
Extra thin and very light, Spectra EPD uses a SPI interface and features fine-tuned embedded waveform for exceptional optical performance. The embedded waveform can be custom configured to meet the needs of different customers and applications. Although not new in the marketplace, the three-color technology used by Pervasive Displays benefits from the company's ongoing development programme, resulting in better quality, enhanced reliability and improvements to color film variations.
Due to their bistable nature, Spectra EPD panels require very little power to update and use zero power to maintain an image. The displays are able to operate over an ambient temperature range of 0 to 40 degrees and breakage detection is supported.
Pervasive Displays has already shipped several million of these versatile display units to its lead customer and is now making them available to the wider market.