Ultra-low power e-paper displays pivotal in streamlining service automation
13 Feb 2017
Tainan City, Taiwan, February 2017 – Pervasive Displays (PDi), a world leader in e-paper displays, announces the use of its advanced technology in the intelligent call-to-action product Spur, from UK-based start-up ContinuumBridge. Each incorporating a Pervasive Displays 2 inch e-paper module to form the basis for a simple user interface, Spur implementations consist of remote, battery-powered units that are wirelessly connected to a cloud server. When activated, they communicate with the connected network and give instant visual feedback to the user. This flags that the service request is being dealt with (e.g. asking for a hotel room to be cleaned or a coffee machine to be refilled). Because they are not reliant on any additional infrastructure, Spur units are quick, easy and cost effective to deploy. As a result, they are already seeing widespread uptake in retail, hospitality and facilities management sectors.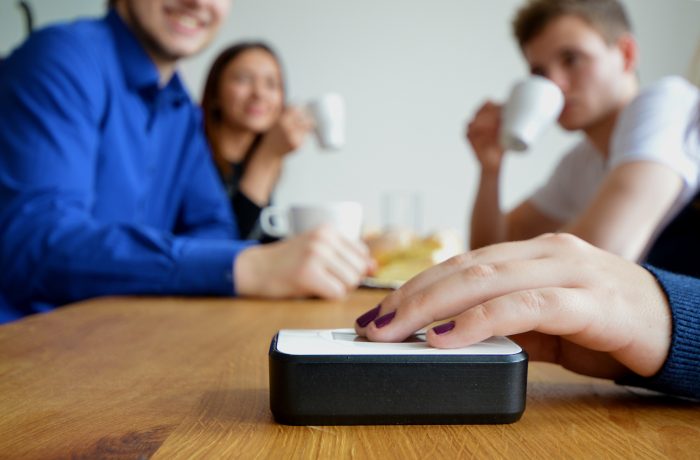 E-paper ContinuumBridge Service Button
The employment of Pervasive Displays' superior e-paper technology means that Spur units can run for prolonged periods without needing battery replacement — over five years based on normal operational circumstances. Proving to be essential in achieving this are the ultra-low power capabilities of the specified display modules. They present a highly effective mechanism for rendering text and graphics that, unlike TFTs or OLEDs, only draw power when the displayed content is changed. These modules also deliver industry-leading performance in relation to sunlight readability (making them highly suited to outdoor applications) and image retention.
"Pervasive Displays' e-paper displays furnished us with the required user interface functionality while not impacting on Spur's power budget," states Peter Claydon, founder and CEO of ContinuumBridge. "The company was able to recommend an off-the-shelf solution that fitted our exact needs, along with the assurance of long term continuity of supply, plus expert technical support."
"The e-paper solutions we produce are optimized for applications where extended battery life is mandated. Through the integration of our energy-efficient displays, Spur will be able to address a broad range of industry sectors. More efficient processes can thus be put in place and new services provided without the expense of having to overhaul existing equipment," adds Scott Soong, CEO of Pervasive Displays. "Our involvement in the development of this innovative service automation device highlights Pervasive Displays' numerous strengths, in terms of the product itself and also the associated engineering resources we offer. It underlines how we are able to differentiate ourselves from other manufacturers."