Innovation of eink display conquering extreme weather:Wide Temperature Eink Display
27 Apr 2023
As global warming and extreme weather conditions become more and more severe, the average temperature is also getting warmer, creating the need for electronic products to be able to operate under a wider range of temperatures, especially in outdoor and semi-outdoor settings. The new wide temperature with eink technology of  Pervasive displays rolls out happens to provide solutions to these conditions. This article will introduce the new  wide temperature  eink display product and how it can be applied to real life. 
Introduction to epaper display
This paragraph will talk about what epaper display is about and its advantages. 
The principle of epaper display 
Compared to traditional monitors,

epaper display

s provide reading and writing experiences that are more similar to real paper because it uses reflected light to display images and text. Not only does it not produce backlightings, but it also causes less harm to human eyes. 

Epaper uses reflective display technology unlike other displays that require backlightings. This also increases its battery life as it does not consume energy to provide the backlight.
The advantages of  eink display
Low energy consumption:

epaper display

only consumes energy when images are being refreshed; this characteristic allows

eink display

to run for long periods of time, making it ideal for use in devices such as e-readers. 

Readability: another advantage of

epaper display

is its reflective display technology, which provides a stable reading experience under different lighting conditions. This means that even in direct sunlight, readers can still easily read the content without glare or reflection problems. 

 
Wide temperature eink display – surviving under extreme weather
The imagine film of E ink display has some limitations in critical environmental conditiona. The new wide temperature line makes its evolution along the way. 
Temperature limitation under extreme weather
Epaper display generally works under 0°C~ 40°C/50°C; however, in some cold regions or during winter, epaper display may not be able to operate normally due to low temperature issue. Same problem applies to electronic labels that are used in places like the freezer. 
Using Aurora-25 as material might solve the problem, but it can only be used under high temperatures up to 30°C. That is, it is important to select the appropriate materials and equipment to ensure normal operation regarding various environmental conditions. 
Wide Temperature Epaper Display – enhancing the temperature operating range
Pervasive Displays utilizes its unique manufacturing technology to enhance the temperature operating range of eink display, providing the first and only solution for epaper used in the industrial field. 
This wide temperature epaper display can support an operating range of -15°C to +60°C for outdoor or semi-outdoor area, making it more suitable for use in harsh environments.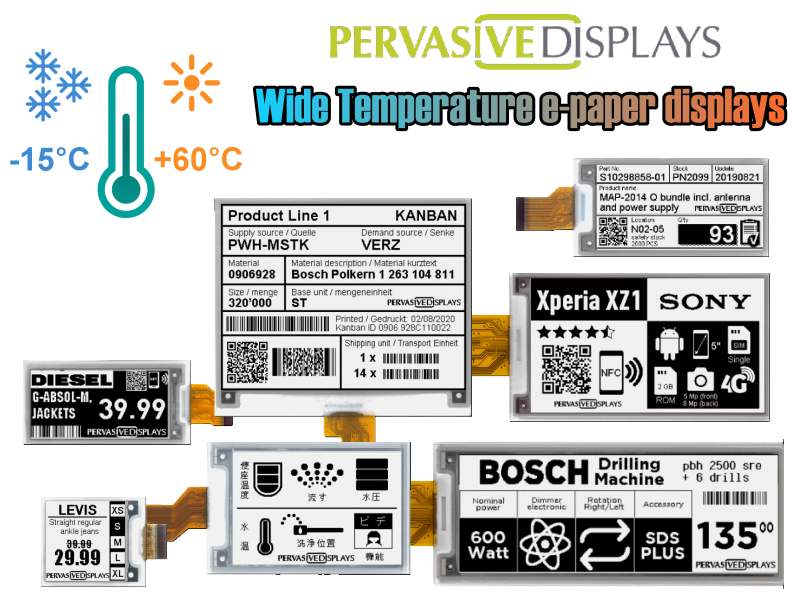 Application of wide temperature epaper display
The following paragraph will talk about the applications of the wide temperature e ink display  in different industries and how to solve the problems in the use of traditional electronic paper.
Retail application with wide temperature epaper display
Wide temperature epaper displays offer a variety of advantages when used in the retail industry. Epaper displays used as electronic shelf labels are eco-friendly, consuming very little energy and producing no waste; their ability to update in real-time also makes them ideal for displaying pricing information or promotional offers. 
Additionally, the wide temperature epaper display is especially useful in settings like freezers and chillers, allowing retailers to easily track, update, and change inventory information without having to physically be in the freezers. 
Outdoor application for wide temperature eink display
It is very practical to use wide temperature epaper displays for outdoor applications especially for temporary parking signs or outdoor electronic signages. Those wide temperature eink displays are highly temperature resistant and can operate normally even at extreme weather or high and low temperatures. 
In addition, wide-temperature epaper displays can also effectively reduce ghosting, degraded images, or malfunctions when exposed to direct sunlight, ensuring the clarity of the displayed information and making it ideal for use in a variety of outdoor applications. 
Fast update / refresh condition for wide temperature epaper display
The newly developed wide temperature epaper display has the advantage of fast screen updates/refresh, making it particularly suitable for scenarios where displays need to be updated quickly or less than a second. Most importantly, this wide temperature epaper display has the fast updating waveform driver built in, and does not require developers to write additional code, cutting down time and costs. 
This display is not only suitable for Internet of Things (IoT) devices, but is also for interactive devices, instrumentation, sensor displays, as well as for displaying real-time information or interactive content. 
Reading condition for wide temperature eink display
Wide temperature epaper display is also a very useful display technology when it comes to outdoor readability, especially in sunlit environments. Compared to traditional LCDs, wide temperature displays not only eliminates the need to adjust brightness when exposed to sunlight, but it also dramatically reduces ghosting issues, degraded images, and malfunctions.
The features of Pervasive Displays' E ink display products 
Ultra-low energy consumption:

epaper display

s from Pervasive Displays are known for their ultra-low energy consumption, allowing them to operate for extended hours without the need for frequent charging or battery replacement. 

Customization:

Pervasive Displays offers a wide range of customization options to meet specific needs of their customers, including custom display sizes and shapes to specialized coatings and interfaces. Their team of experienced engineers and in-house designers work closely with their clients to create displays that are tailored to unique requirements. 

Ten-years commitment:

Pervasive Displays is also committed to the long-term success of their clients; therefore, they offer a ten-years commitment to support their clients and

epaper display

products lifetime, providing customers with the peace of mind knowing that their investment is protected. 

Turn-key solution:

A turn-key solution is also offered that makes it easy for Pervasive Displays's customers to integrate the

epaper display

s into their existing products and systems. This includes everything from hardware and software integration to testing and validation, ensuring a seamless and efficient transition from start to finish. 
Pervasive Displays launchs a new large range of wide temperature eink displays from the existing dimensions for small and medium sizes in the first quarter of 2023, including < 6",1.54", 2.13", 2.66", 2.71", 3.7", 4.2", 4.37" and 5.8". The purpose is for developers and rolled out products can be directly upgraded or transferred without any mechanical changes so that the launched products can be directly operated in wider temperature range.

Pervasive Displays will launch new size range of wide temperature eink displays for large sizes in the second quarter of 2023, including > 5", 7.4", 9.7" and 12"
By the time, all sizes of wide temperature epaper displays  will be available at Pervasive Displays.