Electronic Shelf Labels: What are the Benefits of Electronic Shelf Labels?
12 Aug 2022

Introducing ESL systems: how does electronic shelf label work?
Waves upon waves of retail sellers have turned to online operations and virtual malls, because the explosive development of the Internet means they no longer have to bleed store rents, and can finally kiss salaries and utility bills goodbye. Having said that, there is still an undeniable value and appeal to physical stores, and to escape the sad fate of total extinction like the dinosaurs of old, change is imminent and inevitable. The real key to survival lies in the continuous optimization of business operations, and  the giant leap is the use of electronic shelf tags, as they rake in more money by slashing the cost and reshape the whole façade by improving tag readability and overall operation efficiency. Here is how.
First generation: LCD and infrared communication
In simple terms, electronic shelf labels, sometimes ESLs in short, are also referred to as electronic shelf tags or electronic price labels. They are display systems first used by stores and malls to show product information and prices. The first generation electronic shelf tags deliver product information from directly attached store ERP and POS, through the principles of diffusive infrared spectrum, to the front edge of retail LCD shelving.  However, LCDs require a constant power source to feed its image display, so much remains to be done to further reduce costs. Today the digital and wireless nature of the epaper method is great in terms of enabling dynamic pricing and improving information accuracy. Furthermore, the distinguished features of low light source and near zero power to withhold information, as opposed to those of traditional LCDs, provide better protection and comfort in terms of user eye-sight. That is why LCDs are being extensively replaced by the epaper display tags, making the ESL epaper the truest viable solution.
Second generation: E-paper and Infrared or radio communication
The second generation electronic shelf labels are equipped with electronic paper (e-paper) technology, connected to 2.4GHz, Wi-Fi, ZigBee or other proprietary radio communication technologies through access points or routers , replacing traditional paper labels and stickers. Each and every single pigment particle encapsulated inside the thin film of the electronic paper display is electronically charged and shows a different color, and this army of particles are the basic elements of the E-paper displays of batteryless RFID-enabled tags. Through the radio communication technology  or Infrared (IR) connected to the back-end platform where the administrator controls the data to update on electronic shelf tags for batch adjustment of front-end store labels is another great step forward towards the utopia of a power efficient, eco-friendly world.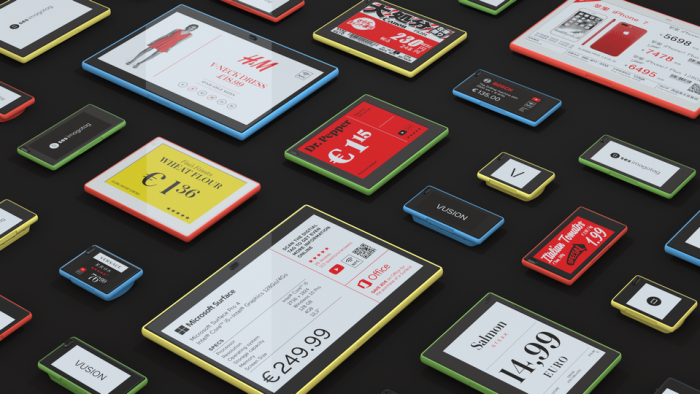 For higher retail operational efficiency and better control over commodity information and price adjustments, owners and entrepreneurs are actively investing in the application and development of Electronic Shelf Label solutions in the retail field, hoping to achieve breakthroughs and accelerate the epaper display tag application development.
Third generation: Planogram and picking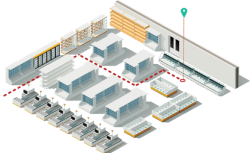 Thanks to epaper display tag and its radio technology, location-based or geo-location technology, store management and staff can finally be spared of the purgatory of tedious labor of locating random commodities and changing paper labels and stickers from just a single centralized platform, giving shelving staff greater latitude and precision in replacing the information pertaining to the target products, such pricing, product placements, picking merchandises from online order, finding target items on the shelf from apps and managing the planogram on gondolas, etc.
Employees are able to command each sale, even from remote locations, and the ground plan generated by the command will give shoppers easy access to the whole store as if they were on the actual floor. Guided by either the store PDA or mobile apps, buyers can navigate between the shelves and enjoy the quickest pick up of the desired items, following the optimum route as the access points have been pre-drawn along the layout Picking up items one by one per online order will be done effectively and even bulk purchases can be made cart by cart with relative ease. "Shopping spree" will have a new definition as shelving and shopping will no longer be physically demanding.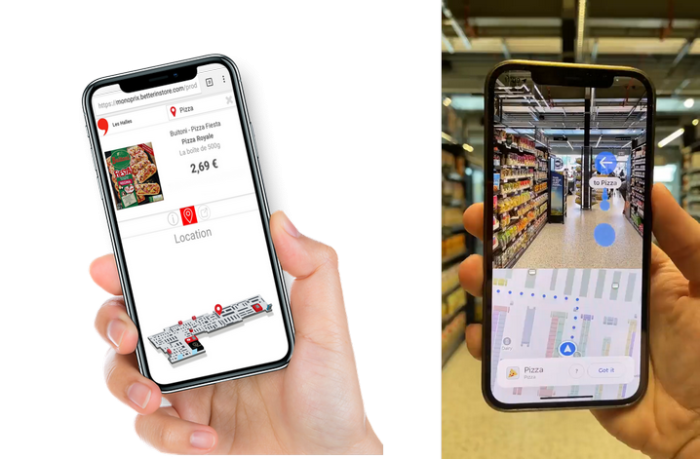 Now with the visual representation that demonstrates the precise placement and exact layout of products on various display points, planograms help keep stores highly efficient and maximize selling space with aesthetic appeal and category flows in consideration. Boutique and retailers, small or large, can also benefit from planograms' visual appeal while taking into account merchandising principles and sales performance. Using planograms is simply like reading the pages of a book in which shoppers can have a clear grasp of the merchandise and determine how much inventory the stores have for each product through the consistency created between store locations, and the product pairing suggestions promoted by the stores.
Comparison between Electronic Shelf Label and Traditional Shelf Label
The E ink ESL centralized infrastructure for omnichannel synchronization networks is equipped with a low-power MCU and SoC wireless chip, and consists of three main parts: label management software (Cloud based mostly now), communication infrastructure and terminal display, so not only do retailers reduce the average unit cost of products, but store clerks can feel much more appreciated by engaging in other higher-value tasks. Global ESL solution leaders SES-imagotag have estimated that their current online ESL can be refreshed and updated up to 600,000 times per hour (over 5 billion refreshes per year) and the number of refreshes are increasing by 30 to 50% per year so just imagine the benefit of higher employee motivation and work ethics, and best of all is the intimacy through improved interaction with shoppers who enjoy consumer experience and shopping satisfaction like never before.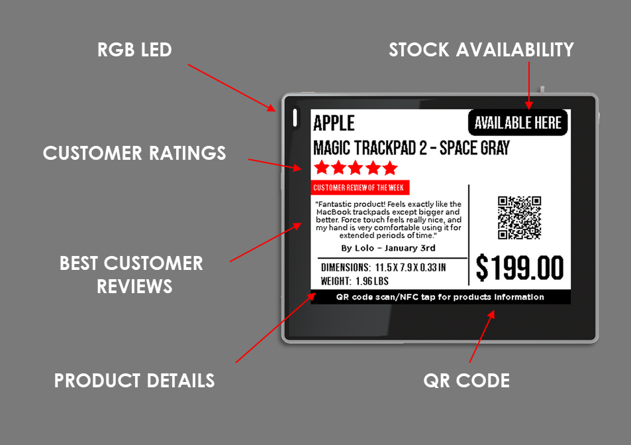 Comparison Chart of electronic shelf label and paper price tag:
Here is the comparison chart of ESL and paper price tag; the details of the benefits of electronic shelf label will be provided below the table.
| | Electronic Shelf Labels | Paper price tag |
| --- | --- | --- |
| Pricing Strategy | Best fit for dynamic pricing strategy and price change can be conducted remotely within few seconds | Relatively Slower, price change needs to be done manually and it might take one or two days to finish the change |
| Promotion(changing the price) | Easy and doesn't incur extra cost | Incur additional paper cost for changing the price |
| Transportation Cost (for transporting white paper) | No | Yes |
| Labor Cost when changing price | No | Yes |
| Accuracy | Higher | Lower |
| Pricing error | Lower, also the error is manageable and measurable with the help of electronic shelf labels system | Higher |
Accurate pricing across channels
One of the most interesting changes affecting the industry in recent years is that the latest versions of electronic shelf labels and tagging technology turns cumbersome store work into highly productive customer interaction experience. This means no more long hours of bending over itty-bitty pieces of tags of different sizes at corners and aisles. Store staff can engage in more interactive services by creating a friendly environment while assisting guests on the floor. The label management system is able to set up the schedule to switch different templates, change the price or data from immediate data integration from ERP, POS or back office systems. These changes can be controlled, logged and reviewed accuracy any time for store manager or the retail administrator.
Enhance omnichannel sale experience
Besides better store work experience for employees, these cold digital price tags also carry at the same time the warm benefits of omni-channel sales experience as well as potential increase in customer loyalty, because the continually evolving customer expectations can finally be met through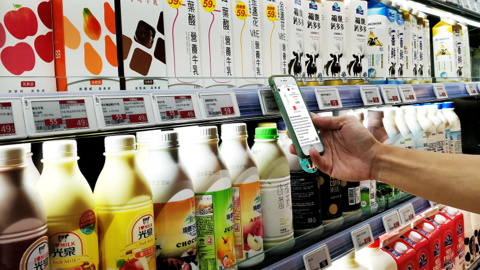 the multiplication of individual electronic shelf tag touch points over a variety of seamless channel connections, allowing customers to pick up information where they left off on one channel and continue the experience on another.
Most epaper display tag systems follow a very simple operating process: transmit, update and display. The distance between the system and the various advertising information display points used to present a challenge for conventional retailers, but today's ESL vendors  can overcome this challenge thanks to easy access to smartphones and stable internet communications, shoppers can tap on the ESL from the embedded NFC tag or, with a quick scan on the QR-code screen, activate the pop up target web page or application for further item information. From adding items to the online shopping cart to ranking the products or services with stars and comments, shoppers can keep expecting a richer range of  luxury experiences as vendors come up with greater varieties of  functions and the realization of O2O (offline to online, vice versa) and omnichannel marketing.
Decrease error rate of pricing
Electronic shelf tags can also improve product price and other information accuracy while eliminating human errors in traditional paper labeling and pricing. Accurate pricing across channels and standardized pricing systems will allow customers to no longer be disappointed and confused by price differences at different touch points across the store because electronic shelf tag operators can review changes and fix any pricing errors at any time. After integration with retail point-of-sale (POS), ESL systems can ensure the overall shelf product information and pricing are in perfect synchronization and consistency with those in the POS systems, contributing to better tailored promotion and advertising campaigns.
Conform cost-effectiveness of corporation
As for the electronic shelf label costs, it might seem like a big amount of money to move to the ESL system, however, using electronic shelf label actually saves quite much money compared to traditional price tags. By electronic shelf label, you can save paper cost, transportation cost, printing cost, and labor cost. What's more, paper labels sometimes need to be removed on the shelves even if item in stock, however, by using ESL, you can simply change the image remotely.
Lower costs and power consumption mean greater conformity with the corporate ideology of cost-and-eco-effectiveness. As the world struggles to achieve carbon neutrality, electronic shelf tags are offering significant help with the reduction of logging. Deforestation is no longer just a slogan, but an actual goal. Remember the days when people used to line up in front of the zerox machine waiting for piles of paper to magically self-produce so their productive day could be saved with a basket of flyers and price sheets. E ink ESL is achieving more visibility with less paper. And low power consumption signifies decreased carbon traces, so the more electronic shelf tags are used, the less carbon taxes are to be paid from a corporate point of view.
Future of Electronic Shelf Labels
Key factors of Electronic Shelf Label growth lie in the dynamics of applications across various industries. Examples include marketing flexibility on pricing and sales campaigns and future is found where ideas are created. For umbrella retailers it means proactively promoting rain gears on a nice rainy day. And excessive food waste has always been one of the biggest headaches for food producers.
The dynamic information and pricing features of electronic shelf tags with wireless technology will help overcome the problem by having sensors read the IC tags of fresh products with short expiration dates in order to pick out the shelf life of the products, or even change prices at any time according to the product expiration date. Electronic Shelf Labels features save consumable food from waste bins and more people from starving.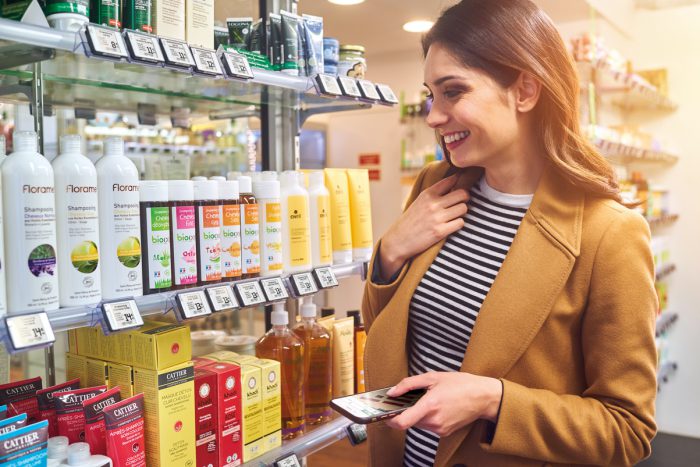 Key factors of growth
E-commerce is facing the end game proposed by electronic shelf tags. By integrating ESLs, retail store POS mechanism and the online platform, retailers can centrally manage omni-channels through the back-end platform, implement the same-price strategy for all channels, and can flexibly and quickly respond to competitors' pricing in each channel for instant online price comparison and guarantee of the lowest price. Epaper display tags dramatically change the way industries advertise the merchandise or share important data by better protecting the economy and markets from more carbon emissions in a more time-efficient way. Emphasis on green development will create demand upsurges and the efficient performance of electronic price labels will broaden the applications, revolutionizing user experience and markets
Industry application
ESL applications can be envisioned across various industries ranging from automotive and transportation, hospitals and healthcare, public and private institutions, and educational sectors all the way to personal consumer and wearable electronics. Epaper display tag technology is an indispensable tool because fast information exchange has become one of the most basic yet essential way of life. Hospitals will be saving lives by communicating more effectively between caretakers, patients, and patient families. And traffic will benefit from more precise transportation schedules with accurate dispatches and surgical arrangements of mass transits. These improvements are merely some of the most fundamental applications available, as more are being developed and implemented.
Why You Should Choose Pervasive Displays Inc.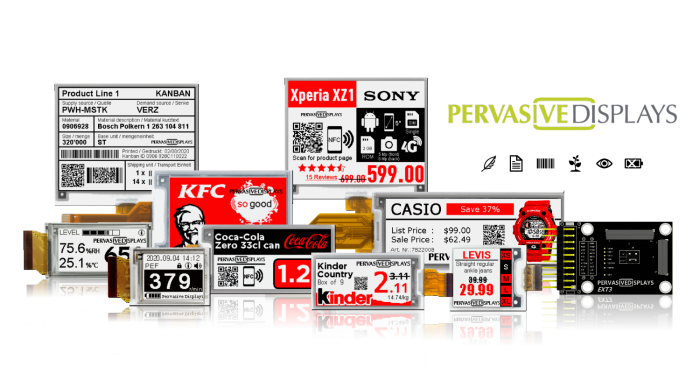 Pervasive Displays Inc. (PDI) offers specialized custom services, complete post-sales service, high-quality EPD modules and various EPD development kits to fully optimize customer's operation process and improve customer's production efficiency. Pervasive has served ESL solution providers around the world for over 13 years, and has become the EPD module manufacturer and designer with the most ESL shipments. PDI's full collection of EPD models from 1.54" to 12", with various temperatures ranging from freezer to cool room, will  custom make your storefront, help develop more IoT, in-store and innovative applications, and turn your physical environment into a digital asset.