Pervasive Displays collaborates with Energia to add EPD driver support to TI LaunchPads
21 Sep 2016
Tainan City, Taiwan, 21 September, 2016 – Pervasive Displays (PDi), a world leader in e-paper displays today announced the results of its collaboration with community-driven and open source electronics prototyping platform provider Energia. The Energia integrated development environment (IDE) provides similar support for the Texas Instruments (TI) family of LaunchPad™ development platforms as the Arduino and Wiring IDE.
Designed to bring the same Arduino-style application development simplicity to the LaunchPad ecosystem, the Energia IDE provides support across the range of MSP430™ microcontroller(MCU)-, MSP432™ MCU, SimpleLink™ Wi-Fi® CC3200 wireless MCU- and TM4C microcontroller boards.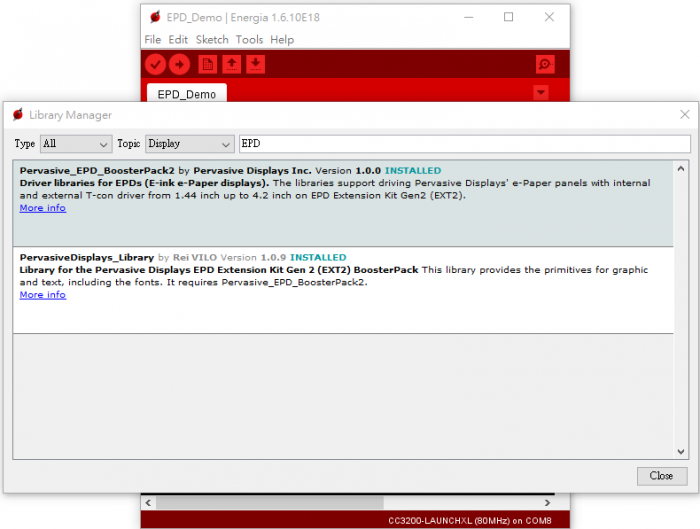 Driver library of Pervasive Displays for EXT2 kit in Energia Library Manager
Within Energia IDE's Library Manager all the necessary driver libraries for the range of Pervasive Displays 1.44 to 4.2 inch e-paper displays are built in. In addition, support for future three-color displays is accommodated. Full support is also provisioned for the recently announced EPD Extension Kit Gen (EXT2) extension board that is constructed in a TI LaunchPad kit and BoosterPack™ plug-in module-compliant format.
By incorporating native IDE driver support, both Pervasive Displays and Energia are easing the development of designs that use e-paper displays. E-paper displays are ideal where power budget restrictions mean that driving an LCD display is not possible. E paper only requires energy to change the information displayed. Once changed, the power source can be removed and the information last displayed remains. This approach yields exceptionally long battery life; a single coin cell will power some applications for many years.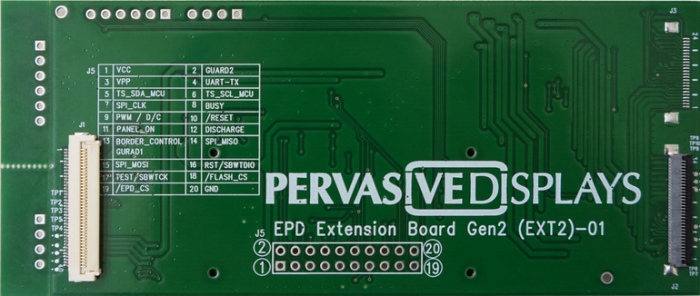 Pervasive Displays e-paper modules with EPD Extension Kit Gen 2 (EXT2)
Adrian Fernandez, microcontroller customer experience manager at TI commented, "Integrating ease of access to e-paper displays by providing full library support through our LaunchPad kit ecosystem and the Energia IDE gives developers every opportunity to trial their capabilities and incorporate them into their next design. Energia support for the e-paper BoosterPack module will enable the maker community in their various endeavours."
Robert Wessels, Founder of Energia, said "The LaunchPad kit is an ideal development environment ecosystem from which to prototype a wide range of applications and these advancements will enable rapid future prototyping. The addition of native Energia IDE support for Pervasive Displays' range of e-paper displays further broadens the possible range of applications and expands into a number of sectors where extremely low power consumption and/or energy harvesting techniques are essential. The fact that the display continues to show an image after the power has been disconnected facilitates display-based developments not previously possible and we are getting very positive reviews on the second generation of the Pervasive Displays e paper extension kit with support for new screens and new LaunchPad kits."
You can (1) download the latest version of Energia IDE to get the drivers from Energia Driver Manager or (2) download the project code from EPD Extension Kit Gen 2 (EXT2) webpage at the Firmware code section now.