Pervasive Displays introduces new four colors e-paper displays for high-impact messages
4 Sep 2023
Tainan City, Taiwan – 5 September 2023. Pervasive Displays introduces new e-paper panels with four colors, named Spectra 4, which is also known as Spectra 3100 or BWRY. Compared with the previous version, Spectra 3000 (Spectra red), Spectra 4 can display yellow colors and is fully hardware compatible with the existing driving circuit of Spectra Red (black-white-red) screens, ideally suited for high-impact messages.

Three sizes: 1.54", 2.13" and 2.66"
Spectra 4 gives new options for high-impact messages
The red and yellow colors are vibrant and saturated. Black text on yellow background, and yellow text on black background, are highly readable. On Spectra 4 screens, you can display various incremental levels of urgency using different colors: the black color displays information, while the yellow color shows warnings and the red color is reserved for critical alert messages.
Thanks to the high density of up to 140 dots per inch, the combination of the four basic colors gives six additional colors, totalling ten colors.

By combining the four basic colours, black, white, red and yellow, six other colours are obtained:
grey, light red, dark red, light yellow, dark yellow and orange, totalling ten colours, with high contrasts for high-impact messages.
Spectra 4 compatibilized Spectra Red, replacement is easy
Our Spectra 4 offers full hardware compatibility with your existing Spectra Red PCBAs and current EPDs. Our Spectra 4 and Spectra Red EPDs keep the same size, dimensions, general specifications, the same 24-way flat cable and the same driving circuit.
This full hardware compatibility allows an easy in-place replacement of the monochrome (Aurora type of E Ink material film) and black-white-red (Spectra Red type of E Ink material film) panels by this black-white-red-yellow (Spectra 4) panel, no need of developing a new PCBA.
Spectra 4 uses the same command set as Spectra Red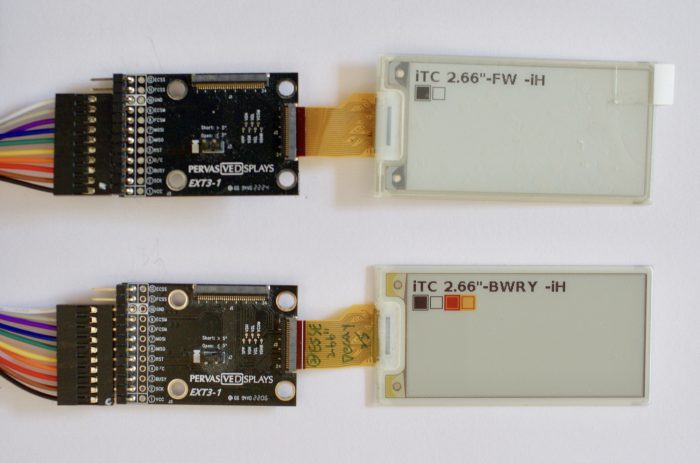 The Spectra 4 software includes driver firmware for each panel as open-source license-free examples. You do not need to learn a new command set. The Pervasive Displays Library Suite (PDLS) brings native support for color and a rich set of text and graphic primitives. It relies on a platform-agnostic SDK to support a wide range of micro-controllers and single board computers.
The same e-paper EPD development kit EXT3-1 is recommended for evaluation. You can enjoy the easy replacement and more colors to display information.
Extensive documentation helps you easily using Spectra 4
Extensive documentation complements the PDLS to reduce time-to-market development time: the wiki provides a gradual introduction to the e-paper technology and how to use it; the user guide includes commented examples, applications notes and reference designs; and the reference manual lists all the functions and their respective parameters.
The product of Spectra 4 series
The new available Spectra 4 e-paper panels include three sizes first as follows.
The 1.54" Spectra 4 BWRY panel is a four pigments black-white-red-yellow color e-paper display (EPD) with internal Timing Controller. It brings 152 x 152 pixels at 140 dpi.
The 2.13" Spectra 4 BWRY panel is a four pigments black-white-red-yellow color e-paper display (EPD) with internal Timing Controller. It brings 212 x 104 pixels at 111 dpi.
The 2.66" Spectra 4 BWRY panel is a four pigments black-white-red-yellow color e-paper display (EPD) with internal Timing Controller. It brings 296 x 152 pixels at 125 dpi.
The 1.54"-BWRY, 2.13"-BWRY and 2.66"-BWRY panels are available at Mouser and Digi-Key, along with the recommended EXT3-1 driver board. The other sizes will be released soon.
About Pervasive Displays
Pervasive Displays designs, manufactures and markets e-paper displays for applications requiring high resolution, good readability and low power consumption. The company focuses on commercial and industrial applications including retail, logistics, healthcare, security and manufacturing. Its mature TFT, integrated circuit and e-paper platforms reduce risks and improve product value. Pervasive Displays simplifies the work of designers by providing both standard and custom displays and offering extensive technical support through an ecosystem of partners. Design resources include detailed product specifications, application notes, reference designs, source code and applications support. The company is based in Tainan City, Taiwan and Orinda, USA. Find more information at www.pervasivedisplays.com.
Media contacts
Charming SU, Senior Vice President, Pervasive Displays
4F, No.28, Chuangye Road, Tainan Science Park, Tainan City (744094) Taiwan (R.O.C.)
Tel +886 6279 5399
Email: media@pervasivedisplays.com