Introducing Electronic Paper Display : How does it work and What Is the Advantage E-paper Display vs. LCD
22 Aug 2022
As a full-fledged solution, electronic paper has a limitless range of practical applications still waiting to be explored. Users in different industries are amazed by just how much this new technology is helping them achieve cost reduction and greater overall production efficiency, and enjoy optimal consumer experience. Through this article, you will be able to have a comprehensive understanding of the basic principles of electronic paper, learn its advantages and applications, and be able to find the exact product that you are looking for.
Electronic paper can at times be referred to as epaper, e-paper or ePaper, and often even seem confusing with other names such as electronic ink, e ink, or e ink display. All this naming, depending on the manufacturer and corporate strategy, actually points to the exact same description of the ingenious mimicry of the presence of traditional ink on paper, because technological innovation has made jotting down words on paper a thing of the past! Images and information can now be clearly retained on electronic paper, with the same degree of crispness, sharpness and readability, if not higher. 
What is Electronic Paper Technology and How Does It Work ?
But what purpose does it serve for an image to be displayed on electronic paper and how is this accomplished? What makes this electronic paper display so much better than all the high-resolution screens out there in the market? The answer to these questions lies within the very core of e-paper technology: Just picture each electronic paper display as a pool, filled with up to millions of microscopic capsules, each roughly as thick as a human hair, which contain teeny-tiny electrically charged ink particles of various colors swimming in a clear fluid, all wrapped inside the thin film of the capsule.
In this most basic incarnation of an e-paper display, only black and white particles are involved inside an e-ink capsule. The black pigments are negatively charged, representing the reflective particles, while the white ones carrying the positive charge are non-reflective. With electrodes rigged above and below the capsule film, an electric field is applied to an individual electrode to make the group of pigmented particles with the corresponding charge either float to the top or dive to the bottom of a capsule, imparting to the surface of the e-ink display a certain color.
Simply put, these electrically charged beads are functioning on the principle of the electrophoretic display (or EPD for short) and this tiny motion of scattered molecules rearranged in capsules of fluid under the influence of an electric field are painting the surface of a new world, shedding light on the new display technology.
Advantages of Using Electronic Paper: Compare E-Paper Display (EPD) with LCD
Different from the molecular-scale characteristics of the more popular liquid crystal displays which requires refreshing about 30 times per second, this micro-particle based EPD technology can achieve ultra-low power DC field addressing, thanks to its nature of bi-stability, meaning that in practice an electronic ink display consumes power only when the information on screen is being modified. Just like ordinary ink on paper, an EPD simply holds an uploaded text or static image on display in perpetuity even without a power source, therefore contributing to amazing battery longevity.
Here is the comparison table of e-paper display and LCD, the reference link is inserted here:
| | E-paper Display | LCD |
| --- | --- | --- |
| Thickness | E-paper display is about 1 millimeter in thickness | LCD is relatively thicker (approximately 7 millimeters) |
| Readability in Sunlight | Readable in sunlight | Hard to read in sunlight (needs strong backlight) |
| Portability | It is easier to carry E-paper due to its light weight | It is relatively difficult to carry LCD due to its heaviness which is because of the glass screen and power systems. |
| Power Requirements | Only consumes power when the image is changed | Consume power while holding images. |
| View | A viewing angle of 180 degrees, i.e. it can be viewed from anywhere if you are in front of it. | LCD can be best viewed only from the center front of the screen. |
| Pixel Visibility | E-paper display uses reflection of light for pixels to be visible | LCD uses back light illumination for pixel visibility. |
E-paper Display can Display Without a Power Source
An EPD further helps resolve the business difficulties and sales challenges experienced by digital signage integrators and commercial companies due to display failures during power shortages or lost internet connectivity, and no more blue screens or error messages since the last uploaded information will always remain on display, even when the screen fails to refresh for any unknown reasons, making a world of difference compared with conventional display technologies.
Electronic Paper is Ultra-low Power Displays

Electronic paper technology does not require continuous energy consumption after displaying, as it consumes power only when the information on screen is being refreshed.This makes electronic paper  advantageous in terms of energy efficiency and long-term use, particularly for applications that require prolonged display of information, such as e-book readers, price tags, and public information displays.
E-paper Display High Contrast and Reading Comfort
Greater contrast and reflectivity also give ePaper higher-quality readability. Being a reflective technology means being sunlight readable, and unlike the embedded LCD technologies, ePaper needs no power to light up the screen. Therefore, the ePaper rule of thumb goes like this: If one could read a piece of paper, one can read an ePaper. 
 E-paper Display Application in Various Industries
The drive for digitalization further pushes forward work effectiveness and the exactness of information exchange, while reducing risk and improving decision-making. Be that as it may, some sectors in many industries still in earnest depend on manually refreshing whiteboards and data cards for internal communication, increasing the risk of errors and omission of information as much as the working hours and workload. To allow establishments to carry modern signage into the new era, e-ink signs with more advanced solutions are now available, helping people make better decisions with clear eye-sight.
Healthcare Industry
Patient door signs:E-paper door signs can now connect wirelessly to healthcare facilities and hospitals, updating and forwarding patient information in real-time.
Patient care signs:Through wirelessly connecting to the HIS/EHR/EMR systems, e-paper care signs can automatically display medical alerts and relevant patient records such as patient allergy precautions or restrictions. Integrated and swift doctor / patient communication is key to mutual trust and improved healthcare conditions, as well as medical staff efficiency.
Communication boards: Installation of e-paper communication boards inside patient rooms will in real-time assist with all the patient's medical schedules and treatments, and also serve as a communication portal between the patient, the medical team, the family and friends.
Retail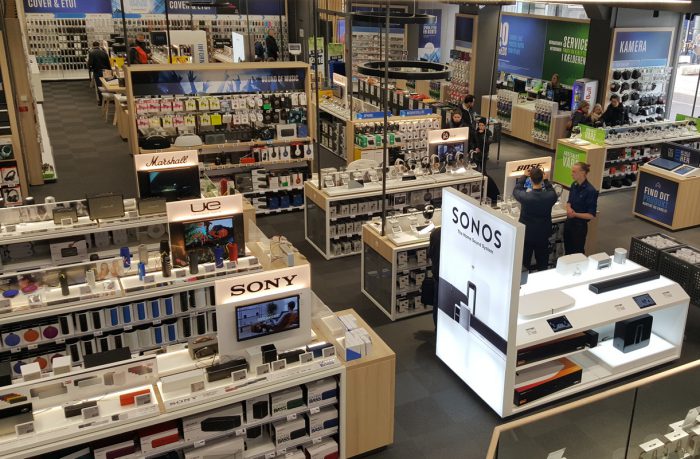 Electronic Shelf Labels: E-paper Shelf Labels (ESLs) allow retailers to wirelessly, instantly and efficiently update the content of labels on the shelves, eliminating the need to print labels in paper formats or deploying manual labor for replacement of paper labels on the storefront. Retailers will be able to easily achieve dynamic promotional pricing, price agility, out-of-stock reminders, template switching, special event messages, brand recognition, QR code scanning, omni-channel links, etc. It is easy for the headquarters to remotely control individual labels in every corner of the world if something happens.
Pervasive Displays have also announced a TFT active matrix module that provides a freezer-friendly, easily-readable electronic paper display (EPD) of information down to teeth-gritting temperatures of -25° C (-13 °F). This ultra-low temperature & remarkably low power consumption module is perfectly suitable for labeling, tagging and informational applications in sectors and settings requiring low temperatures such as cold-chain logistics, food packaging, shelf labeling for frozen foods and storage. Its high resolution and high integrability help designers speed up product development.
The magical effects e-paper displays have on the menu boards of restaurants, food stores, and other dining establishments are easily visible in comparison with conventional LCD displays. The natural look and feel of epaper is most ideal in avoiding the unwanted glare and reflections of light, resulting from the glossy front, from reducing readability. Smooth images and sharp texts are what makes food look more delicious and appealing.
IoT
Digital information boards: Electronic paper provides high-contrast display, centrally updates real-time information and service alerts, and has excellent direct sunlight readability. Connecting sensors and environmental monitoring meters, E-paper display can show key dynamic information and remind managers with its ultra-low energy consumption characteristics. Electronic paper can be used as an excellent display device for the Internet of Things applications.
Notebooks: E-paper is reflective, non-self-illuminating, and eyeball-friendly. Applicable to productivity tools such as computers, and suitable for reading over a long period. Interactive use with LCDs for greater work efficiency.
Taking e-paper notes: The E-paper notepad with handwriting functions gives access to note-taking by hand while reading or during lessons. It contributes to lower consumption of paper and dramatically reduces the weight of schoolbags and the stress on student eyesight when used as teaching or academic research materials at school.
Industrial 4.0 / Warehousing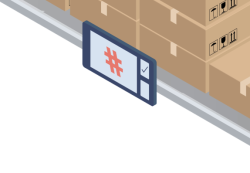 Logistics labels: During the process of transportation, the logistics labels can also display the product name, destination, current status and other information on the package, and can be subject to tracking at any time (RTLS, real-time locating system). The electronic paper with ultra-low power consumption and permanent display is an exemplary demonstration of application in the industrial field.
Smart packaging: E-paper displays offer the advantages of flexibility, low energy consumption, and long-lasting images. Even in the case of complete power exhaustion, basic information will still remain on the packaging, proving feasibility for futuristic smart packaging.
Warehouse management labels: The e-paper warehouse label system plus LED flashing prompts makes identification and positioning of packages more convenient, while giving warehouse personnel greater latitude in terms of pick-ups and speed; with temperature and humidity sensors, products can be monitored in special storage environments. Connecting the warehouse label wirelessly to the management system through the front and back ends in series is the realization of real-time update of inventory and improvement to management efficiency.
Introducing Pervasive E-paper Display Products
Popular Electronic Paper Display Products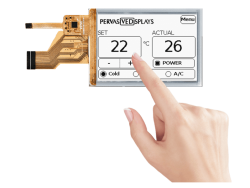 The 2.71" or 3.7" Projected Capacitive Touch panel is laminated on a monochrome e-paper display (EPD) with internal Timing Controller and partial update driving waveform embedded to provide the high resolution image quality and fast refresh . The sub 5" EPDs also provide a wide range of various use cases above to enable diverse applications. 
With this new offer of the 2.71"-Touch EPD, the 3.70"-Touch EPD and the EPDK-Touch kit, combined with the Pervasive Displays Library Suite (PDLS) and the available documentation, Pervasive Displays further facilitates the use of the e-paper technology.
The new EPD touch panels and EPDK-Touch kit provide a simpler way of evaluating the many features and benefits of EPD technology for human machine interface (HMI) applications. Embedded fast and partial updates ensure responsive interactions. Engineers can evaluate HMI with e ink e-paper display and develop applications easier and faster for users to experience the visual enjoyment of interaction.

The EPDK-Touch helps engineers to discover and assess e-paper technology, compare it to other display technologies, test different host micro-controllers and memory configurations, evaluate different screen sizes, before making final decisions.
Pervasive launchs a new large range of wide temperature eink displays from the existing dimensions for small and medium sizes in  2023, including < 6",1.54", 2.13", 2.66", 2.71", 3.7", 4.2", 4.37" and 5.8". The purpose is for developers and rolled out products can be directly upgraded or transferred without any mechanical changes so that the launched products can be directly operated in wider temperature range.Pervasive will launch new size range of wide temperature eink displays for large sizes in the second quarter of 2023, including > 5", 7.4", 9.7" and 12".
Sizes and Colors
With more colors in the family, we continue to provide improved multi-color platforms with various options of display sizes on which incredible and versatile projects can be and realized. Users can now drive the EPD with embedded OTP LUT(One-Time Programmable LookUp Table). now including "small" sizes ranging from 1.54", 2.13", 2.66", 2.7", and 2.87" all the way to 4.2", mid-sizes 5" to 7", and large 9.7" to 12″ available for the extensive use of different industries and purposes. The e paper display (EPD) T-con embedded single driver, with the major SPI control interface, has such high resolution that it is able to display fine patterns with relative ease. The host sends both the setting commands and the display images to the driver through the SPI bus.
Due to its bi-stable nature, the EPD panel requires very little power to update and needs no power to maintain an image. And images now come in a line of compact black, white, and red colors, giving product and service designers greater flexibility with a combination of colors.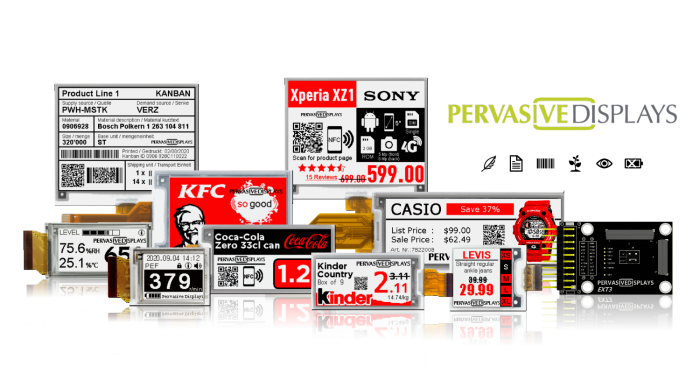 Currently Pervasive supports an entire range of iTC ultra-low power e-paper displays, monochrome and tri-color (black-white-red), from the 1.54" Aurora to the 12" Spectra, opening a whole new dimension for EPDs, so instead of being passive, they can now act as input devices for human machine interface (HMI). This is a perfect configuration for ultra-low power IoT remote controls. Our connectors specifically placed for the 2.71" and 3.70" EPD display with touch focus on ease of use and simplify connections by keeping only the active signals and reducing the number of pins in the initial board. The different kit features offer just the kind of help engineers need to discover and assess E ink e-paper technology, compare it to other display technologies, test different host micro-controllers and memory configurations, and evaluate different screen sizes and colors, before making final decisions.
Development Kits with 2.71" or 3.70" touch panels are available at Mouser and Digikey from June 2022. The EPDK-Touch bundle combining an EXT3-1, EXT3-Touch, 3.7" touch panel and Raspberry Pi Pico will also be available at Amazon and SparkFun this July. 
Pervasive is set to launch a four-color electronic paper product in the second quarter of 2023, featuring black, white, yellow, and red.